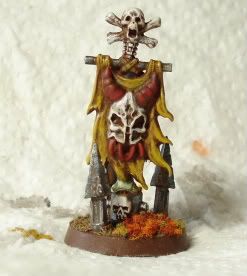 On the heels of this post:
Group of Random Updates and Thoughts
I decided to develop a weekly installment titled "The Weekly Objective Marker."
I will compile what I have been working on over the last week and break down long term goals into smaller objectives...see the tie in...40k objective based missions and all....see the double tie in...yeah some what clever for a Gretchen herder.
Anyway, had to come up with a snappy title and a proper flag pic to alert the eye to a new installment...and away we go!
Last weeks objectives were the following:
Finish the Gretchen squad (and post pics of course)...done
Green stuff bases for Lone Wolf and Fen wolves (opted out for gravel bases that I will paint)...done
Base colors on two Fen Wolves...done
Finish two books, "Legion of the Damned" and "Deliverance Lost"...done
I decided Green stuffing all the bases, many of which have already been done and the model glued on, too much of a backwards step and decided to move ahead.
What I did decide is that they will be a grave yard grey color when all done.
This last week I also completed the last of 4 two week training routines, the heavy week. I enjoy using the heavy weights for my ego, but my muscles respond better to more reps...and my joints complain a bit as well.
This means that this week I return to the first of the two week training routines. I will drop the weights down quite a bit (but heavier than the last go round through the 8 weeks of routines), increase the reps to the 12-15 range, add in abdominal work and increase the rest time between sets. I also plan to change my routine a bit...more to come on that later.
I was able to find a decent gym in the Traverse City area called
'Paradise Valley Fitness"
. It is a small gym, but they have the basics and this means that when I travel for work I do not have to interrupt my training.
I also reviewed a picture of myself (and fiance') this week and I was not happy with how heavy I looked. I don't feel that heavy! Despite the strength gains in the gym with no increase in waist circumference I need to get leaner without losing my hard fought strength gains. This will factor into my nutrition plan for the next 8 weeks.
Alright so this weeks goals for 4.15.12 to 4.21.12:
Complete two Fen Wolves
Base colors on Lone Wolf
Re-Take pics of the Gretchen and post (pics are washed out and do not reflect the hard work!)
Get half way through book "Know No Fear"
Settle on 2250 point Space Wolves army list for 4.28.12 tournament
Determine/implement changes to training routine
Formally Begin Nutrition Plan
All for now. Thanks for the read,
BDS